I am very proud of something I have done recently. It's to do with a little project that I've been working on, slowly, for 5 years.
I present to you, a full, genuine, official map of my creative world, Parluthia.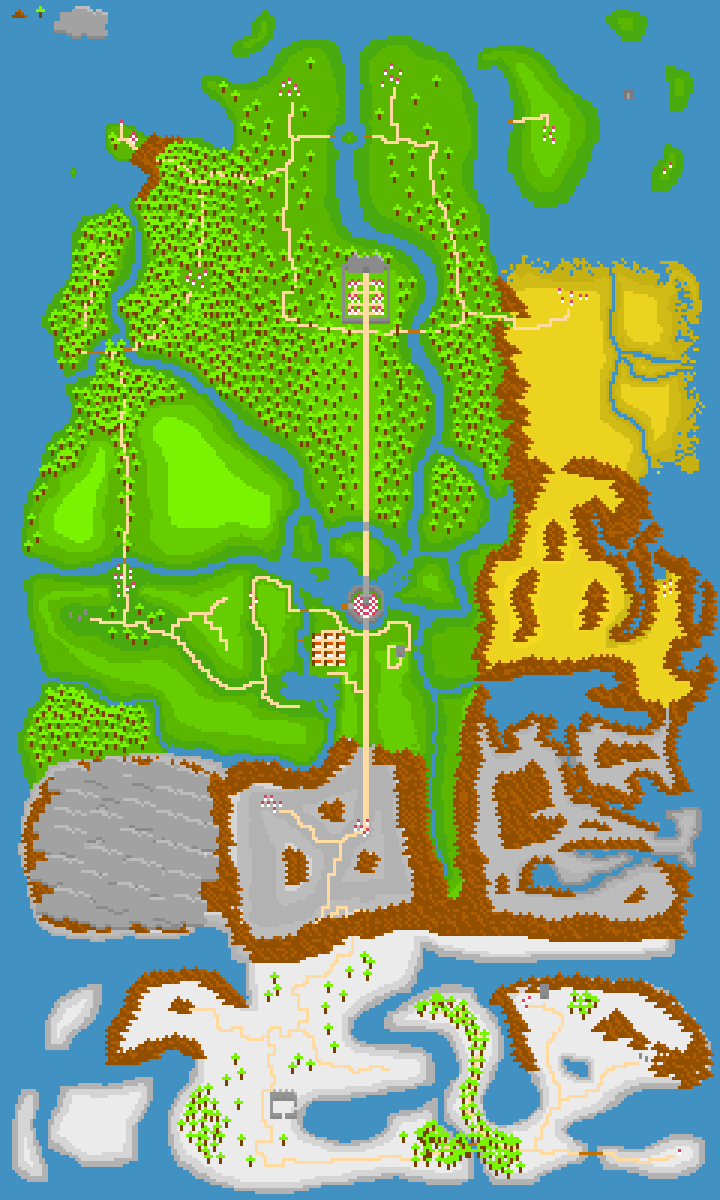 Please take the time to study it as I explain how it came to be.
The world itself actually first existed as a randomly generated world in minecraft (Please keep in mind I was 12). I wanted to create an adventure map, having the player go all over the world, and let the computer worry about silly stuff like terrain and world design. This is what it came up with, and what I would use as a base for my own world for years to come.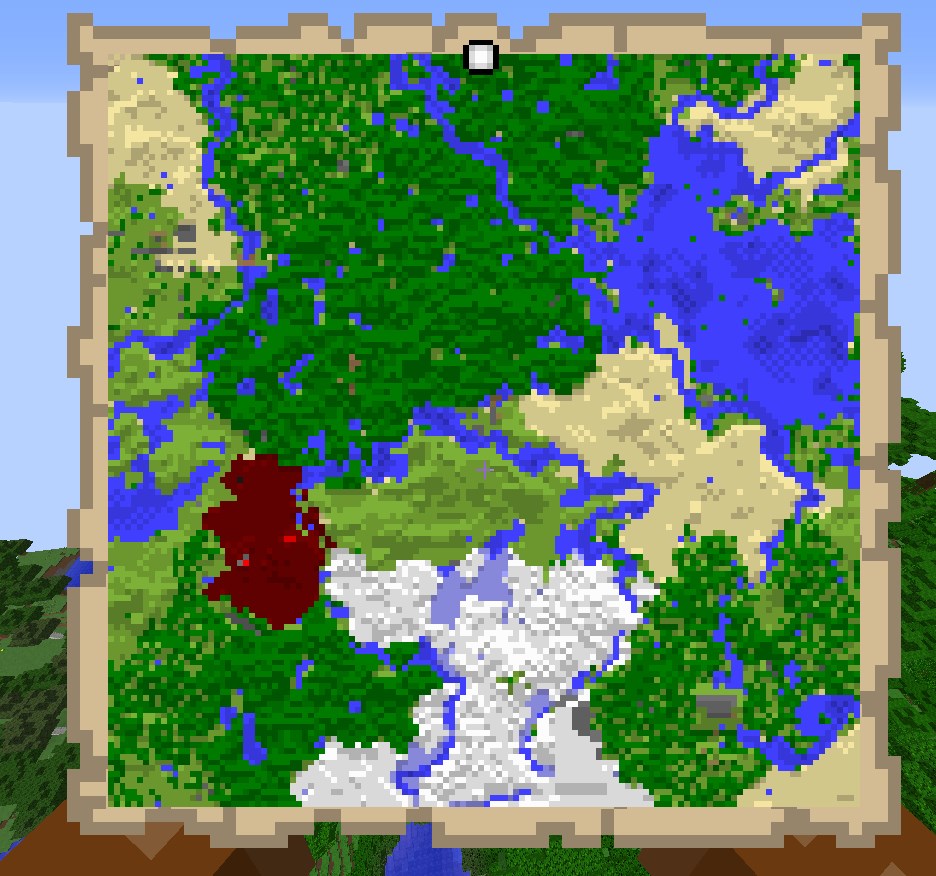 I will admit, it really wasn't a bad looking world at all. I placed down some goals for the player, such as settlements to find (three houses) and dungeons to explore (maybe two rooms a piece), then finally you'd enter the fire temple in the red "nether" land, which was a small desert biome I cleverly replaced all the sand with the stone you find in the nether. Keep an eye on this place, it'll be a regular character later.
Of course, without labels and borders, this will look like any old minecraft map, but don't worry, I've got that covered. Below you will find a map that shows the different areas and the names I'd given them.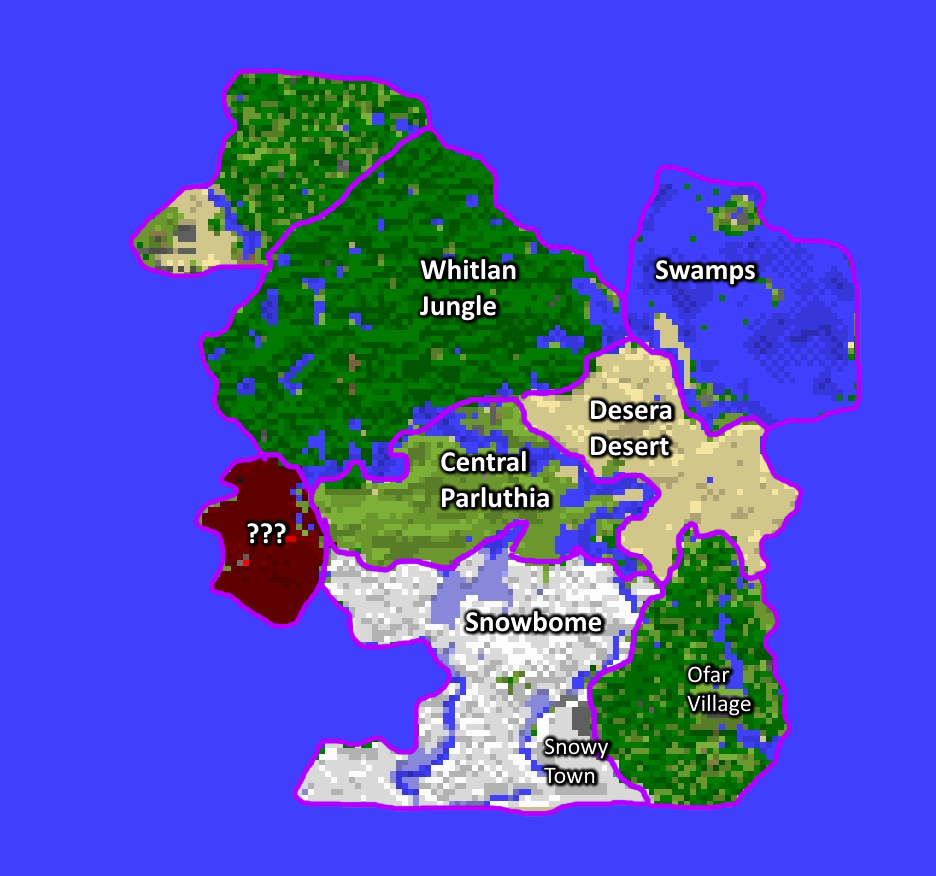 With this, you should be able to start seeing some resemblance to the final map shown at the start of this post, most notably the positions of the grassy plains of Central Parluthia and the snowy biome creatively titled "Snowbome". The desert is in a relatively accurate position, as are the swamps (which I actually intended to be a sort of archipelago, but it was in a swamp biome so it was hard to retain my suspension of disbelief) and even the little village at the top left, which later became the inspiration for the holy peninsula.
Before I move on, consider watching these videos I created as a sort of "trailer" for it. (Once again please remember I was 12.) It'll give you an idea of the kind of structures I wanted inside my world, at the very least.
Eventually I realised my adventure map was either too ambitious or not ambitious enough, and I decided I would redo it in this new software my dad had bought me; RPG Maker VX Ace. I would try to copy down the entire map in this software.
It didn't go very well. (Brace yourself, it's a big one)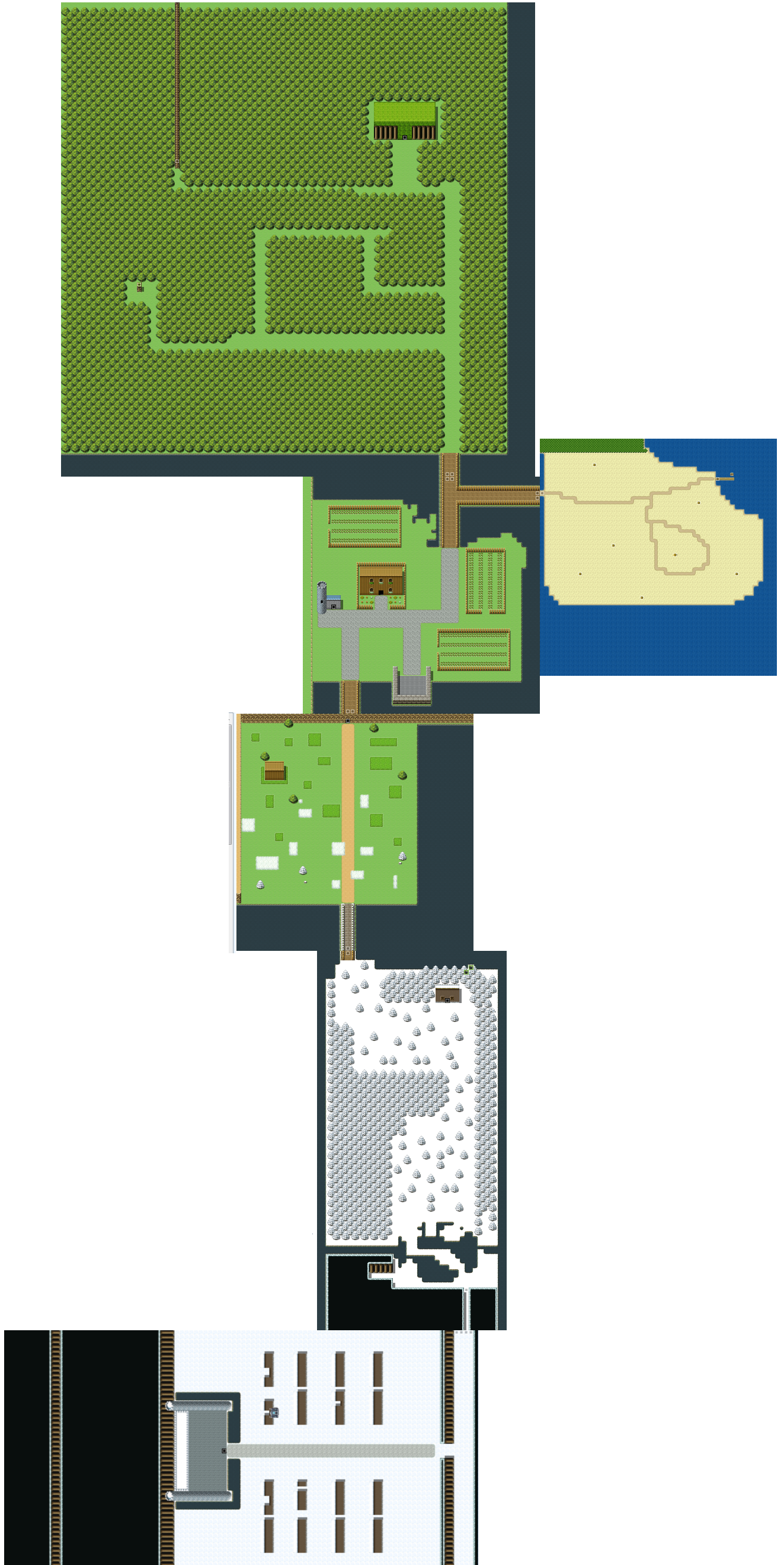 Needless to say, I was very new to the program at the time and therefore my mapping skills weren't the most eloquent, for instance you can see the desert was a little differently scaled to the rest of the map. It wouldn't have been very fun to play, either. One part literally has you holding down the up key for however long it takes you to climb an extremely high tree. A peculiar thing to note, however, is the snowy castle dungeon actually remained faithful to the original Minecraft structure, and even more peculiar to note is this isn't the last time I use the layout. I guess I liked it?
You can see me "play through" what little I had made of this game here.
Unfortunately the game never came to light, even after all the hard work and effort I put into it. I instead experimented with different game ideas, some not even related to Parluthia, but I did eventually settle on one set in Parluthia, and later an indirect sequel to that game, also set in Parluthia.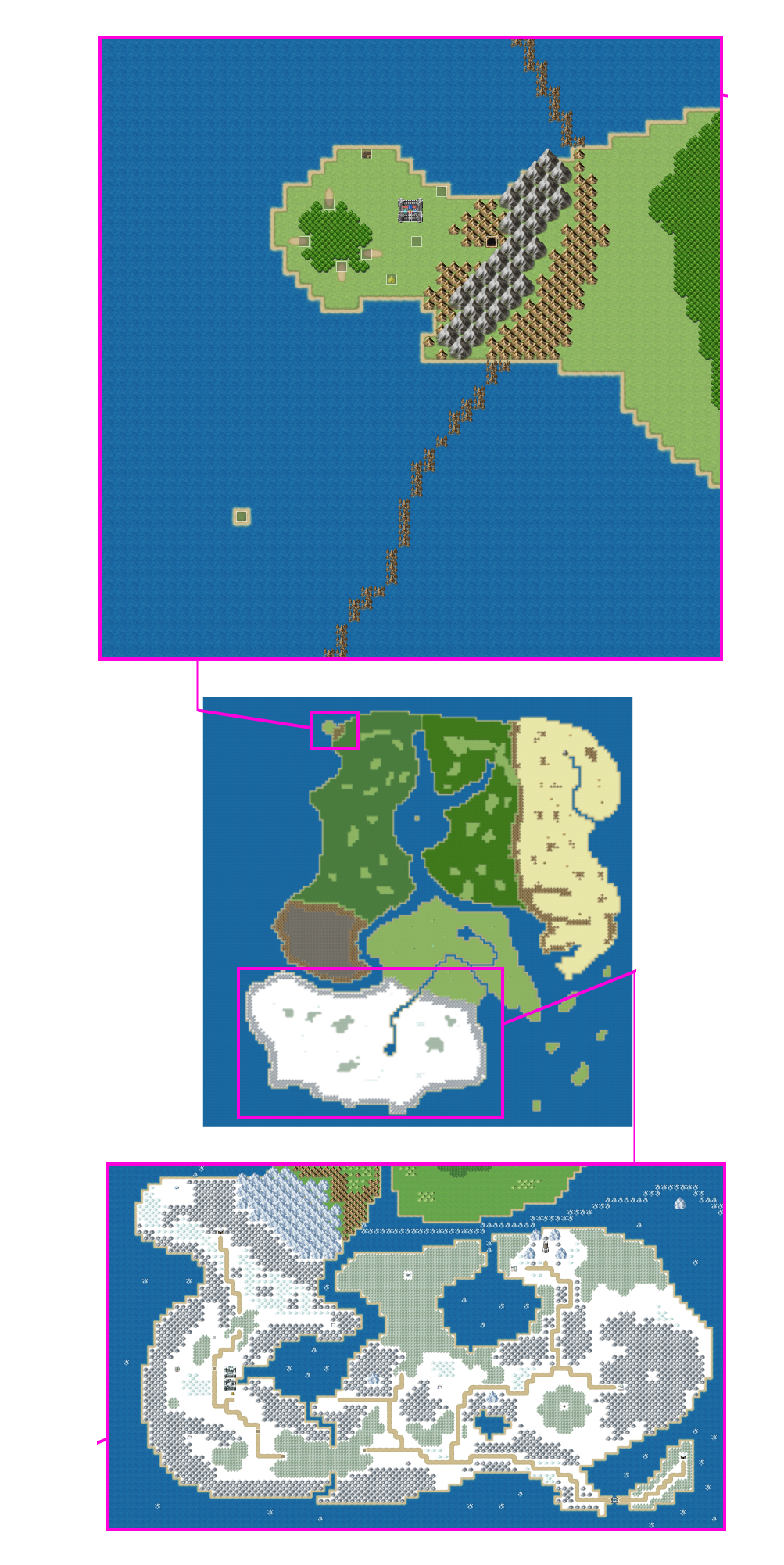 I knew I didn't want to overwhelm myself with making something huge right off the bat, so I stuck with a small area, and thus the Holy Peninsula, seen at the top, was born. This game did come out, and it was called Divine Intervention. You can play it if you want, but I highly recommend you don't. (It's BAD.) A lot of it has been retconned in a cancelled remake (I may update this blog post if I record a playthrough).
After the huge success of Divine Intervention (it is my only released product and therefore my most successful) I decided to try my hand at an indirect sequel, which still has no actual name. It would be set in the "Lost Kingdom of Urai" (Seen at the bottom of the image) and would contain not only time travel mechanics but also spell crafting! Obviously this was too ambitious for my young mind to handle, but it was a good effort at any rate. Here's the video if you'd like to see it in action. (Take note of the layout of the castle! It's the same one from the Minecraft map!)
At this point, my creative juices were flowing, and I wanted to make Parluthia a real thing. I wanted to do stories, other games, or other ways I could tell a story. To be able to understand my own world, though, I needed to visualize it. I set out to create a map, and this is what I came up with.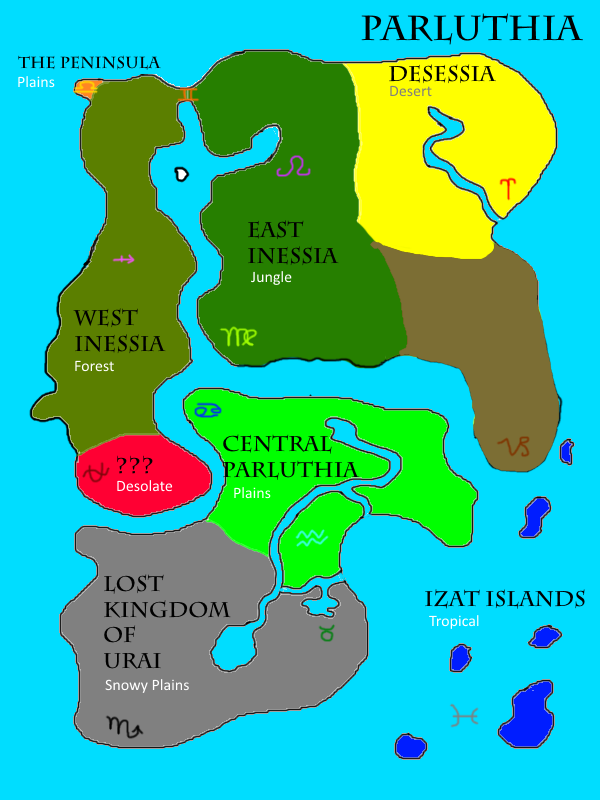 With all honesty, I highly dislike this map.The provinces are too large, it looks absolutely cruddy and overall doesn't tell you anything. For the longest time I tried to get it to work, still writing stories based on this map, but it just couldn't work out. No map can look like this, it's just much too vague and empty. It may have even been the reason why I was too afraid to start anything creative, because I knew this map existed and I couldn't escape it. So for 2 years, this was what stood between me and creative fulfilment.
Only recently, after finishing education, did I try to stir up the creative juices once more. I gained inspiration from other games, such as Runescape and World of Warcraft and took note of how they made their maps. Knowing I had to beat this map, and knowing I had little to no artistic talent, I forgave myself in advance and mapped out Central Parluthia. In RPG Maker MV.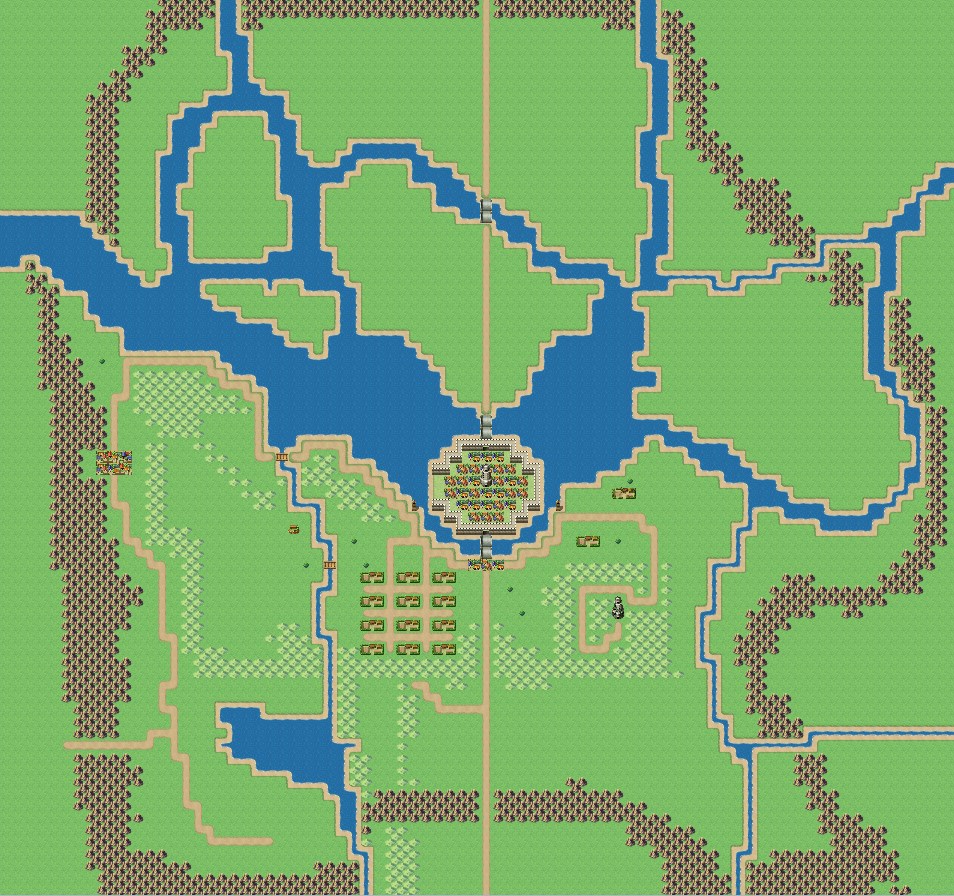 It worked. I was actually pleased with how this came out. I gave little backstories to the settlements in the picture based around the leaders of this area being massive inefficient bureaucrats, such as "Grand Central City" (the capital city of Parluthia, in the middle of the body of water) being completely perfectly round, thanks to some obsessives on the council.
There were some flaws with making my maps in this program, however. Such as not being able to elevate the height of the terrain - that's what the hills were trying to do - and it felt like I had to border it with mountains, despite it being just an at best hilly plain of land. No, I had to regain control. I had to use my own hand to carve my work. Luckily, I've been getting myself familiar with simple pixel art, as you can see from all the graphics on this website. So using Aseprite, I had a go…
And you guessed it, this is what I created. (Here it is again!!)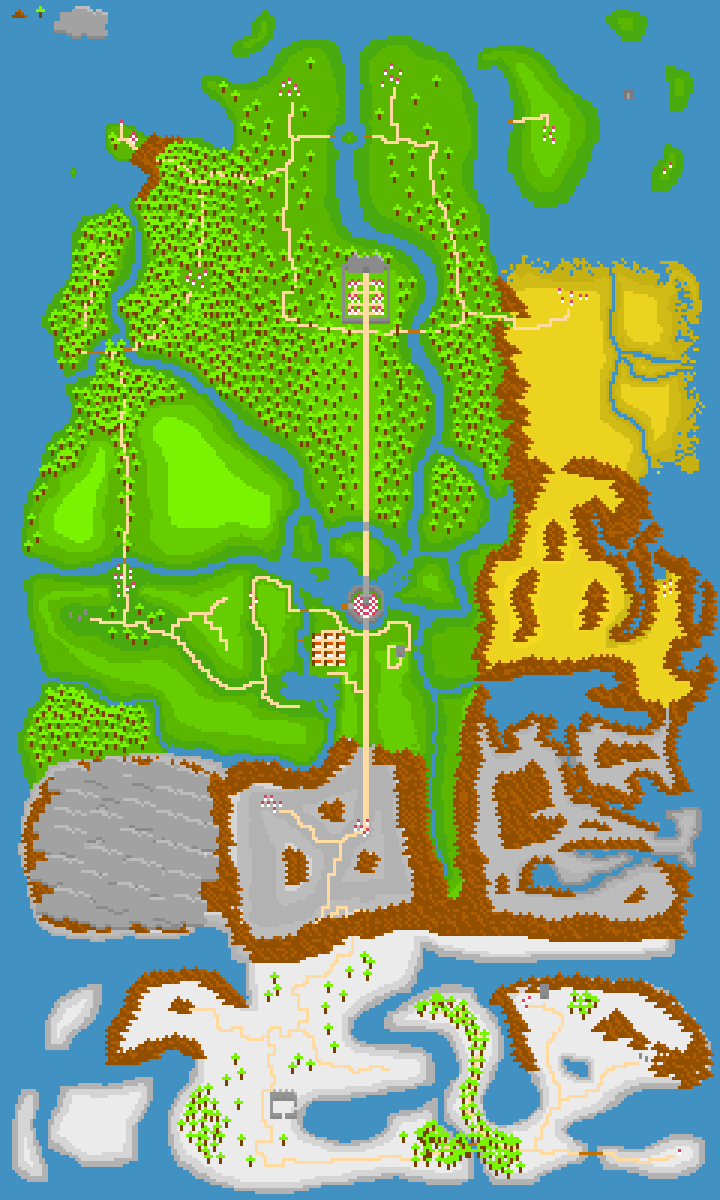 I'm proud of this work. I am genuinely pleased that I was able to create this. I show it to my friends, and I get some generally lukewarm, "pretty cool" responses, which saddened me a small bit. Because, to them, it's just a semi-decent bit of pixel art. But to me, it's a trophy. It's what I've been striving for all this time, and my ticket to finally making something of myself.
Thanks for reading, and I hope you now understand why this is not just a bit of pixel art that took a few days, but a 5 year saga with a hopeful ending.